ENJOY A COFFEE AND A CHAT WITH US
Our Showroom Team would love to help you to create and
make your very own natural products.
Introducing...
NEW Mafura Butter

Mafura trees are native to sub-Saharan Africa, and produces seeds rich in fat.

The cold pressed oil (butter) from the seeds is traditionally used for skin and hair care products which are ethically sourced.

New Directions Embraces Indigenous Ingredients
Australian native extracts are rapidly earning a name for themselves in the organic and natural skincare industry and we must thank its ability to sustain and regenerate skin cells with our sheer selection of ingredient options.

Additions to our range of Australian Native Extracts
NEW
Mountain Pepper
Berry
NEW
Wattle Seed
Powder
NEW
Kangaroo Paw
Powder
NEW
Desert Lime
Powder
Every plant has a season, a purpose and a story that helps us to celebrate and capture the diverse and resilient beauty of our country. Australian native plants have responded to our varied and, at times harsh climate by producing highly concentrated and complex phytochemicals signatures which the cosmetic world recognises as antioxidants, anti-inflammatories, anti-microbials, micronutrients, humectants and emollients.

In terms of bush medicine, it is important to recognise and celebrate the diversity that exists within Aboriginal and Torres Strait Islander plant/ human relationships. Each nation has its own unique medicine practices and different people within each nation have different roles to fulfil. This complex and interwoven cultural relationship helps to maintain the balance between supply and demand, wants and needs.

In the wider context, Australian extracts are earning a name for themselves in the organic and natural skincare market for their beauty, potency and intrigue. The thirst for new native botanicals in the cosmetic space is fuelling new research both in extraction techniques and in their applied benefits.
New Directions is excited to present our recently expanded selection of Australian
Native Ingredients and is looking forward to working with you, whatever your interest.
Mountain Pepper Berry:
High Antioxidant Capacity, Anti-Inflammatory Properties, Vitamin E, Lutein, Trace Minerals Zinc, Magnesium and Calcium.

Wattle Seed Powder:
Protein, Fibre and Carbohydrate source,wide range of Micronutrients such as Magnesium, Iron, Zinc and Potassium.Used to soothe and calm irritated skin.

Kangaroo Paw Powder:
Hydrating and Moisture properties.

Desert Lime Powder:
High levels of phenolic antioxidants,Vitamin C, Vitamin E and trace minerals making it perfect for anti-ageing skin care.

NEW
50ml Shiny White Round Stick Deodorant Bottle with Bottom Plug
NEW
50ml Matte White Round Stick Deodorant Bottle with Bottom Plug
NEW
50ml-100ml Open-Ended Matte Red Tube with Foil Seal and Matte Black Flip Top Cap
NEW
5ml Black Airless Spray Bottle (with Cap)
NEW
5ml Black Alexa Airless Serum Bottle (with Cap)
NEW
15ml Slim Black Airless Serum Bottle with Black Cap
NEW
Propanediol
NEW
Papaya Fermented Fruit
Liquid Extract [Water Based]
NEW
Epitensive®
NEW
Apple, Fig & Coconut Cream
Fragrant Oil
NEW
Verbena & Oatmeal
Fragrant Oil
NEW
Mafura Butter
NEW
Royal Gold Mica
Lip Balm Safe
NEW
Yeast Extract
NEW
Natural Hair Texturiser
NEW
Hydrolite® 5 Green
NEW
Protective
Mineral Complex
NEW
Munapsys™
NEW
Spirulina (Blue) Plant Derived
Colour Water Soluble
NEW
Stellight™
NEW
Kalahari Melon Oil
NEW
Soft Petale
Fragrant Oil
NEW
Novia
Fragrant Oil
NEW
La Vie En Rose
Fragrant Oil

DID YOU KNOW?
Malachite brings a spectacular blue lagoon colour to formulation. Dose-dependent, this colour used in toner, serums or emulsions, is perfectly stable over time.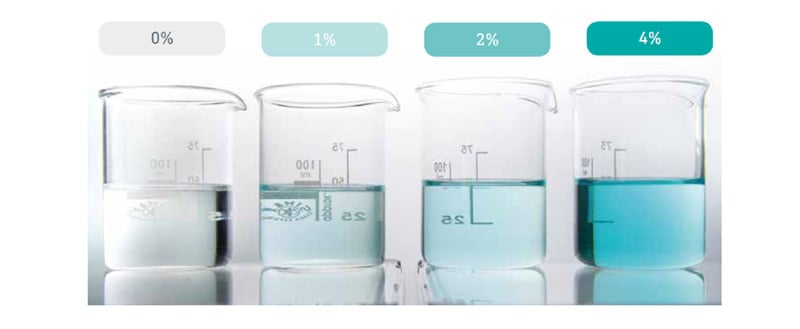 CREATING YOUR OWN
DAILY DETOX SPRAY
Detoxifying, Environmental Protection, Hydrating, Aromatic and Fresh.
Spray over make-up. use all day, every day!*
| | | |
| --- | --- | --- |
| Ingredient | % | Function |
| Neroli Floral Water | 94 | Base, hydrating, lovely uplifting aroma. |
| Protective Mineral Complex | 4 | Copper complex with superior detoxification powers and beautiful natural (and stable) blue colour. Superoxide Quencher for antioxidant benefit. |
| Exo-P® | 1 | Environmental Protection, comes from marine bacteria with excellent detoxifying properties. Anti-irritant, moisturizing. |
| Pentavitin® | 1 | Sugar based active, long-term moisturizing, barrier repair and restoration. |
| TOTAL | 100 | |
CREATING YOUR OWN
PURIFY & QUENCH SPRITZ
Purify your skins microclimate with this un-perfumed spritz for daily use. Environmental protection, hydration, anti-aging.*
Ingredient
%
Function
Water
92.5
Water Demineralised
Protective Mineral Complex
4
Copper complex with superior detoxification powers and beautiful natural (and stable) blue colour. Superoxide Quencher for antioxidant benefit.
Anti-pollution
Skin Purifier
0.5
Red Algae based extract helps to purify the skins microclimate by neutralizing free radicals and preventing sebum oxidation and inflammation.
Hyaluronic Acid 1%
3
Super hydrating, non-sticky humectant for long-term care and skin protection. Collagen boosting.
TOTAL
100
NEW DIRECTIONS PACKAGING IS GOING GREEN!

New Directions Packaging is excited to provide more sustainable and planet-friendly alternatives. Research into environmentally-friendly packaging is developing at a rapid rate. NDP is exploring, testing and investigating new production methods and material compositions to ensure we are doing our part.
NEW
Barcelona & Vienna
Paper Bags
NEW
Black & Brown
Shipping Cartons
NEW
Brown, White &
Coloured Kraft Bags
Don't pack us away...Send us a line!


Now is a perfect time to get out and learn how to create your own skincare.
Whether it be a new hobby or a budding new business idea,
we have the perfect workshops to get you started!


If you have always wanted to make your own retail standard cosmetics, then this inspirational workshop is perfect for you. This is a course suitable for beginners right through to spa and salon owners. Whether you are interested in just making products for your own use or whether you have aspirations to be the next cosmetic giant this course if for you.

After completing Do it yourself plant skincare stage one, we will give you a more comprehensive and in depth look at ingredients and formulating techniques. You will be taken further into the fascinating and complex world of blending essential oils, herbs, acids, and other active ingredients.
*Book 2 or more workshops and recieve 10% off
*Please note our workshops begin at 10am and finish at 4pm
Contact Marly for more information
ph: 02 8577 5914

*

Precautions:
If you are pregnant, breast feeding, or suffering from a health disorder, please consult your aroma therapist or health care professional before using.

Disclaimer:
As the ordinary or otherwise use(s) of products is outside the control of New Directions Pty Ltd., no representation or warranty, expressed or implied, is made as to the effect(s) of such use(s), (including damage or injury), or the results obtained. New Directions Pty Ltd expressly disclaims responsibility as to the ordinary or otherwise use(s). Furthermore, nothing contained herein should be considered as a recommendation by New Directions Pty Ltd as to the fitness for any use. The liability of New Directions Pty Ltd is limited to the value of the goods and does not include any consequential losses.